Tiger Woods has entered "The Dip." The point in his comeback when he appears to be in a slump. However, this lack of superhuman form is to be expected.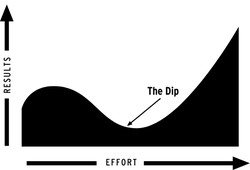 When Tiger came back after his surgery his performance seemed to return almost immediately. Within a few weeks he was winning tournaments seemingly at will. Then he started loosing form. Tiger's execution was less god-like and more human. He didn't win the Masters or the US Open and just missed the cut at The Open Championship. Now beyond speculation to the golf world, Tiger is in a slump. In the next few months I predict Tiger will play the best golf of his career.
Here's why: When making a come back or starting anew in sports, business, music, etc. The initial effort is met with success and the desired goal seems within our grasp. Then we hit the learning curve when gaps in our ability are uncovered and execution becomes difficult. This is when we slide into the dip. The dip occurs as we are getting into form or back to form. The dip is hard. The dip is tough. It seems as if we are going nowhere or backwards. The dip makes us want to quit.
It is also during this time when we are developing and refining our skills, and building mental fortitude, which will  propel us to realizing our potential. Tiger is going through this now, as he has done several times in his career, each time coming out of the dip to new heights and greater accomplishments.
Most people don't persist long enough to make it through unfortunately. We have a goal to break 80, or learn to paint, and right before we come out of the dip we throw in the towel. The key is persistence. The dip has been paramount to Tiger ability to stay dominant even as the competition has strengthened. It is not fun in the  valley, but the journey is worth it.
Do you think we are about to enter into a new Tiger era?
Have you had a dip experience?
photo credit: seth godin